DC CUSTOM GUITARS USA

DC ARTIST | GUITARS | SCALLOPING | MODS | CONTACT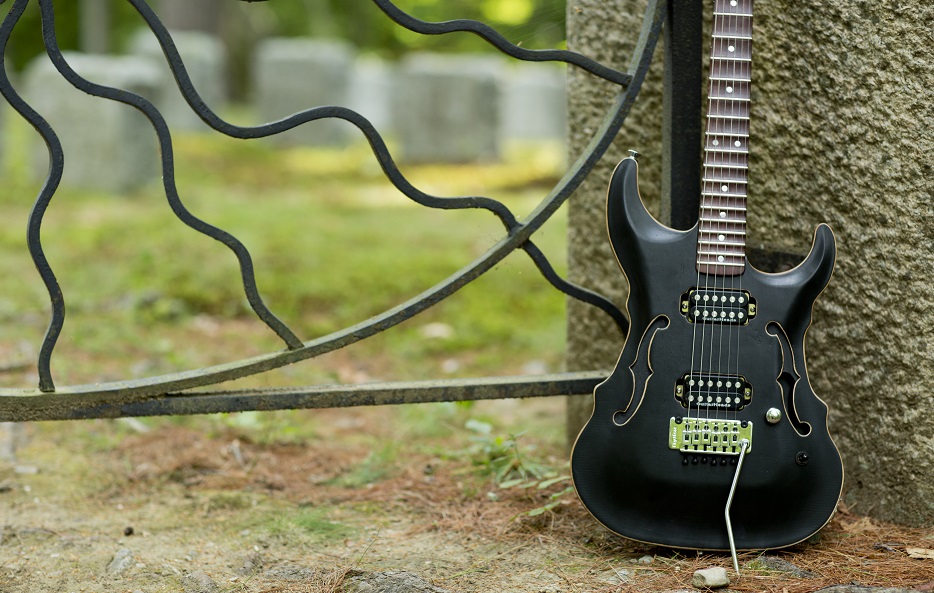 DC Custom Guitars "Evolin" in flat black and chrome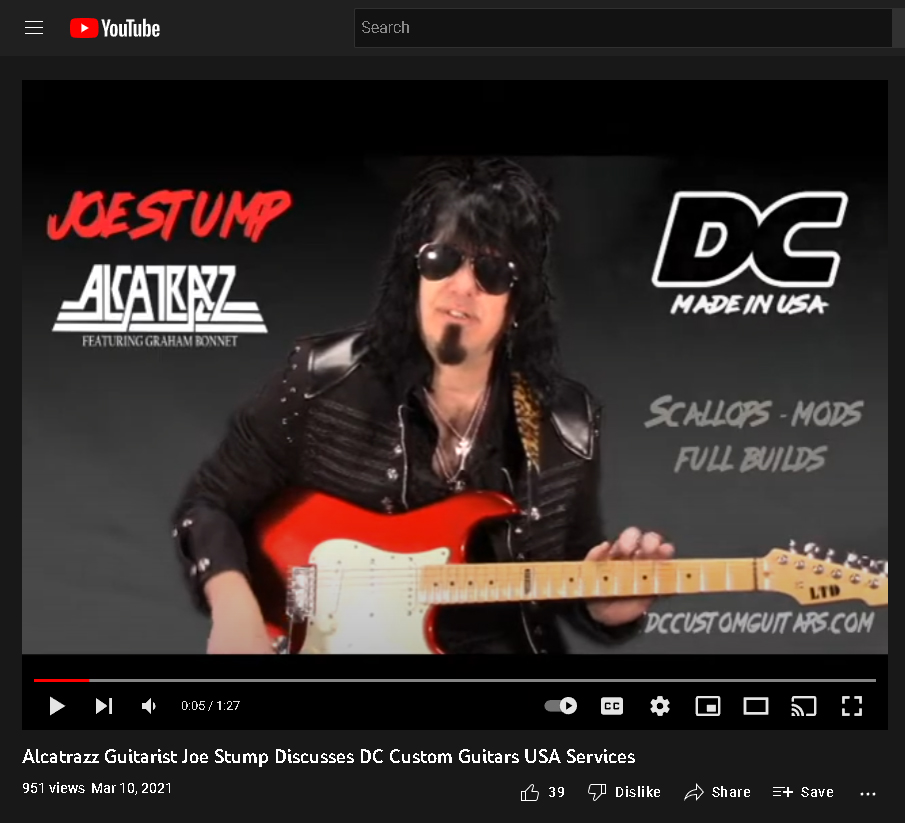 Click the videos to hear what Alcatrazz Guitarist Joe Stump
Has to say about DC Custom Guitars USA Builds / Mods !!



Welcome to DC Custom Guitars!


Each DC Custom Guitar is designed and built around our customers individual needs. If you are a collector of fine heirloom quality crafted instruments, or an amateur / professional musician, we feel our instruments will meet your every desire. Here in the DC Custom Shop, we use only the finest hand selected woods available. We also have access to an enormous supply of exotic woods, just waiting to be formed into a unique instrument. Bodies and necks are crafted to your specifications.

For our customers who need traditional shapes, we have an affiliated licensed Manufacturer's available to suit your needs.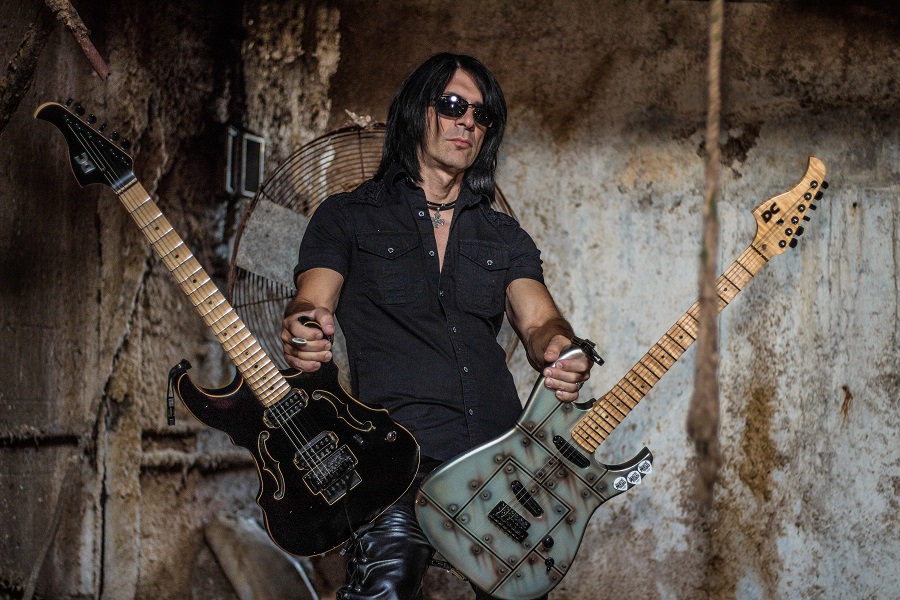 DC Custom Guitars "Evolin" and "Steel Plate SS "(Super Shred)
Each instrument in our USA Custom Shop

is built, finished, wired, assembled and set up by Master Luthier / Professional Guitarist Dean Cascione

. You can be assured that each guitar is meticulous set up and plays sounds amazing before it leaves our shop.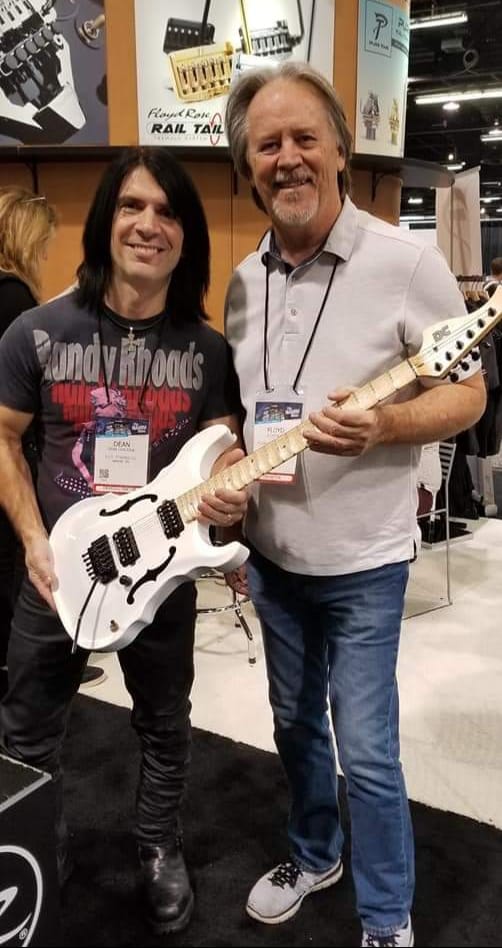 "DC" Dean Cascione at NAMM with Floyd Rose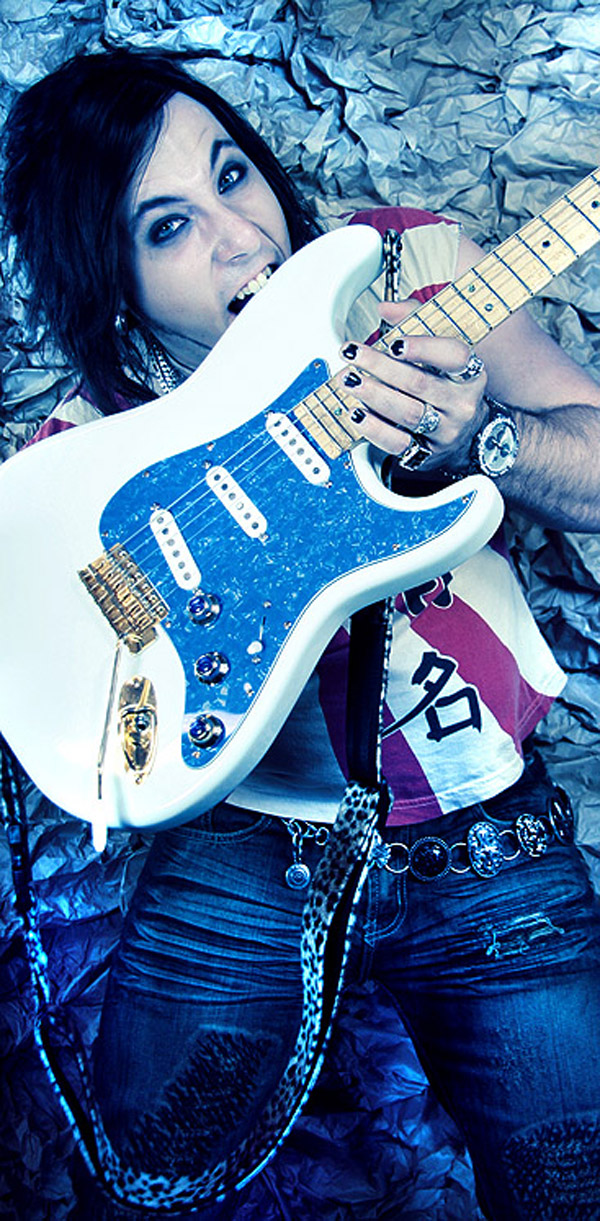 Artist Jay Menard with his DC Custom Signature Series
Pricing & Lead Time
DC Custom Evolin:
Choice of colors, hardware, pickups, bridge, tuners, fretwire, fretboard type, neck shank and body woods. Includes shipping to USA - $3,500.00 USD

DC Custom SS (Super Shred): Choice of colors, hardware, pickups, bridge, tuners, fretwire, fretboard type, neck shank and body woods. Includes shipping to USA - $3,000.00 USD










| | | |
| --- | --- | --- |
| | DC Custom Evolin in Blue Jean finish and chrome to match our clients cool custom Harley Davidson motorcycle. | |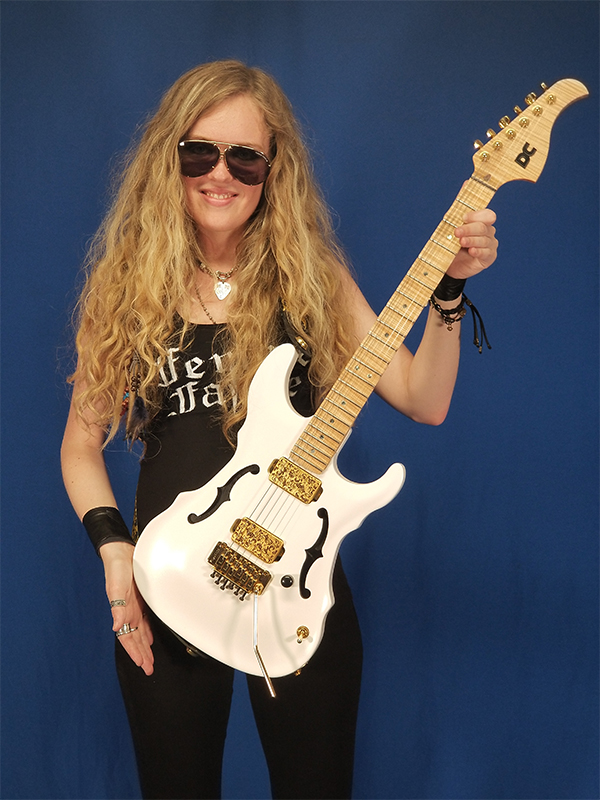 Sacre Victoria / Juno DeVere - DC Custom Endorsed Artist



Guitars take approximately 6 months to build. 1/2 deposit is due at the time of placing the order. Photos of the guitars progress are sent to our clients to keep them excited about the project along the entire build.

"Isn't it time you stop playing someone else's custom shop signature model and started playing your own"? Together with our clients, we work as a team to build the ultimate custom guitar.



Have an existing guitar the doesnt have the right tone, fuction, or feel ? We can install new pickups, custom wire, add a tremolo or block the bridge, scallop the fretboard or even rework the contours of the guitar to fit your demanding needs! Let DC Custom Guitars mod your guitar and get the most out of your existing guitar!


S. Yoon DC Custom modded Gibson Flying V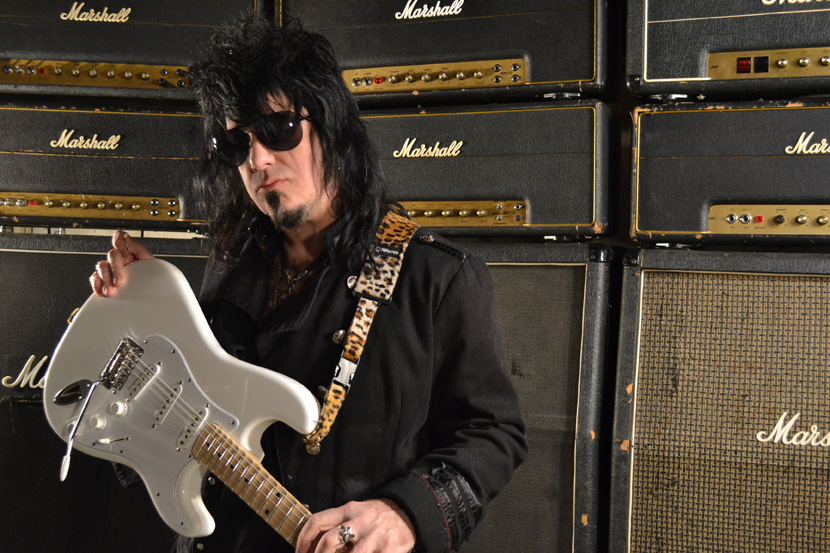 "DC Custom Guitars are outstanding , first rate all the
way. Dean built me one for my personal collection and it's killer, I really love it"
Over the last 18 years, Dean Cascione
has scalloped a ton of necks for me and the work's just absolutely stellar. Each and every guitar comes back to me looking like it came right out of the factory. From the scallop job, to the inlay replacement , and neck finishing it's all top drawer, just outstanding." - Joe Stump / Berklee College of Music / Holy Hell

---
"I go to Dean Cascione at D.C. Custom Guitars USA for all my neck mods. I trust Dean with all my touring and recording guitars from inlays to finishes , killer work!"

-
Tony Rombola / GODSMACK

---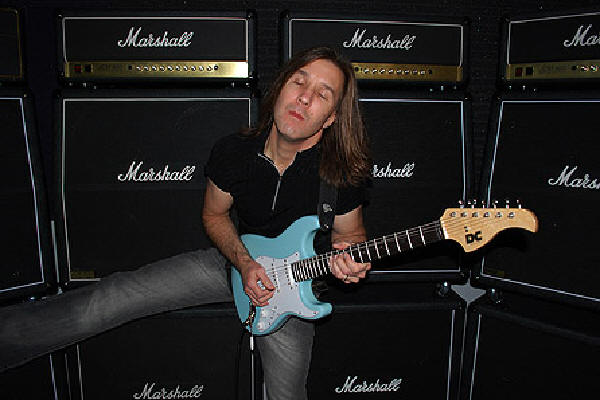 T

"My

D.C. Custom guitar is an extremely well crafted guitar. The tone woods are top notch and nothing but a sonic delight. The scalloped board is very cool and nicely scooped. The tuning is extremely stable, and I much prefer the nitro finish that this guitar has over the now widely used (and not as tone conducive) poly coat finishes. I can't wait to see this beauty age. The D.C. style headstock is super cool too and really adds a bit of attitude to the curvy strat body.
- George Bellas

---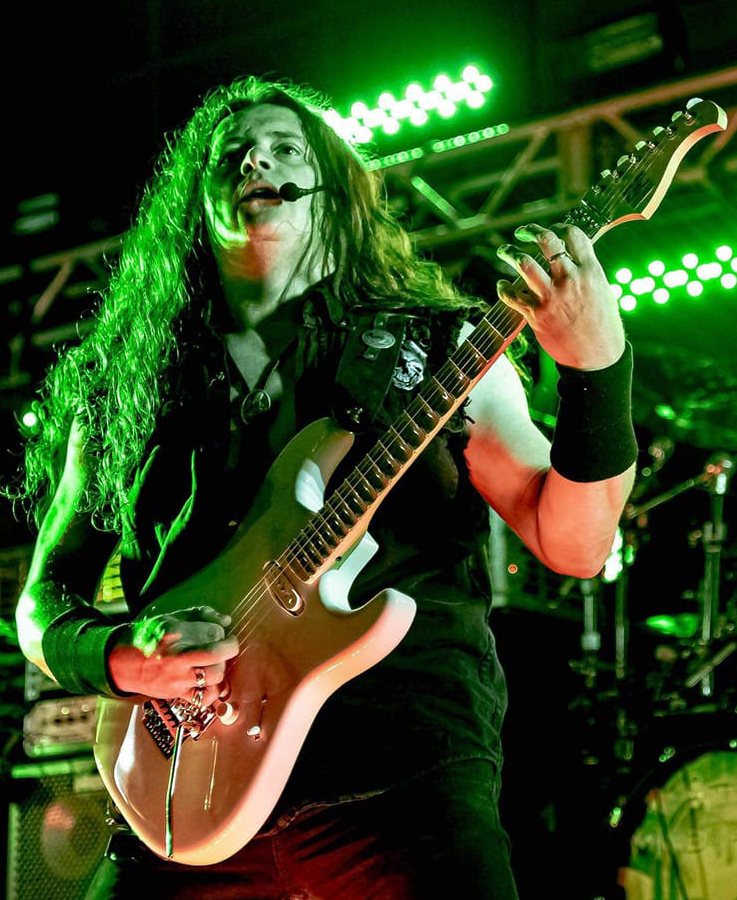 The very first time I played a DC Custom Masterbuilt guitar was at NAMM 2018. Out of literally thousands of guitars on display, (and many that I played and put through agony testing), I fell in love and chose DC Custom Guitars USA to build my signature series guitar because the tone , look, and feel of a DC is just perfect for my playing style and the craftsmanship is second to none... -Gheeyeh / Mind of Fury
| | | |
| --- | --- | --- |
| | 0 | |
| | Watch Ghee Yeh and his Band Mind of Fury in" Make A Change" | |
---
" I loved collaborating with DC Custom Guitars USA to build my dream axe. The hand scalloped solid rosewood neck shreds effortlessly, and the tone quality is incredibly crisp and vocal. I'm looking forward to a lifetime of shred luxury!" - Sacre Victoria / Juno DeVere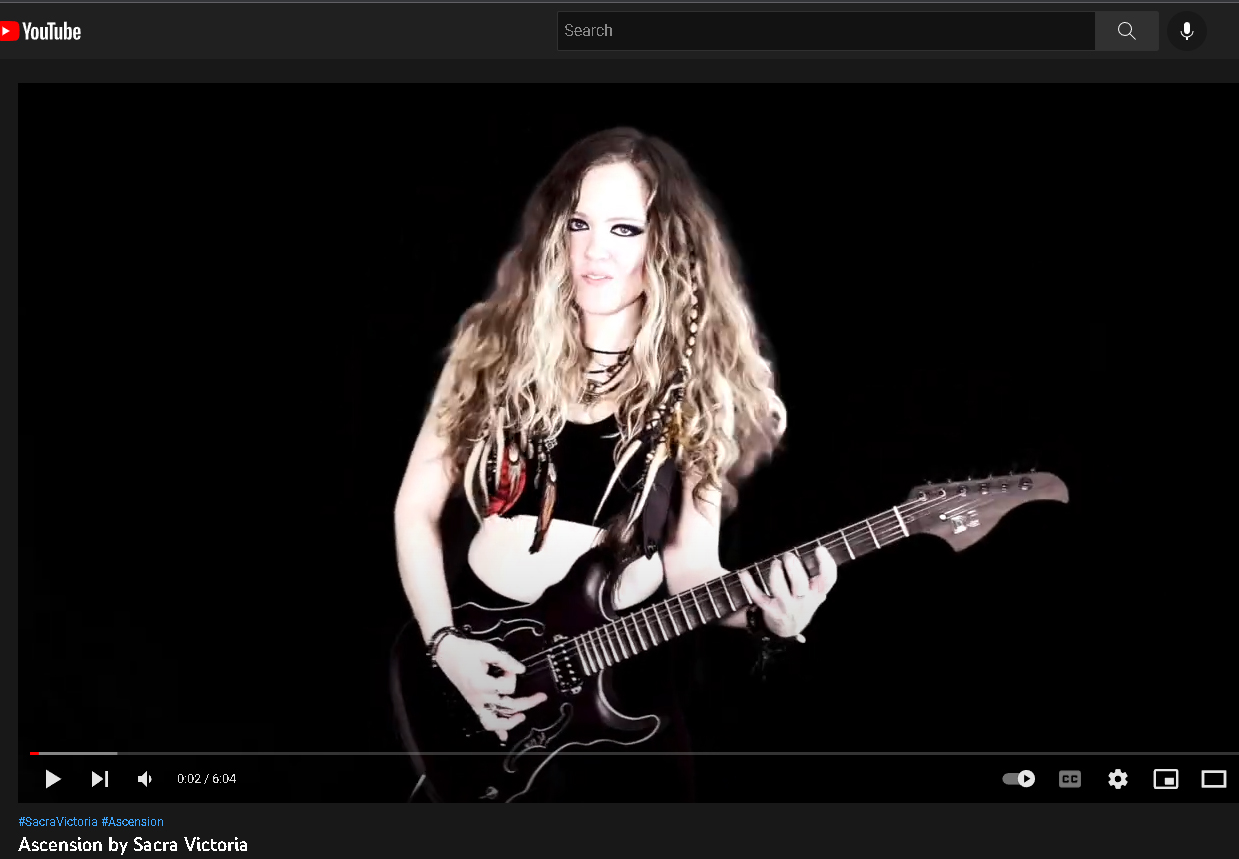 Watch Sacre Victoria Shred in "Ascension"
Let DC Custom Guitars help you unleash the secrets of total note control by scalloping your guitar's fret board! We have been professionally scalloping guitar neck fretboards since 2004 and ALL of the work is performed by hand, in our shop! We are experienced in scalloping set necks, bolt-on necks, neck thru guitars and just about any type of dot inlay configuration (Dots, Shark fins, Abalone, Block)We also offer scalloping services to many OEM companies as well and would love to work with you!! Its as easy as packing your neck (s) safe & secure and shipping your bolt-on neck or entire neck-through guitar to DC Custom Guitars for all your scalloping needs!
'"UNLEASH the SECRETS of the SCALLOPED FRETBOARD"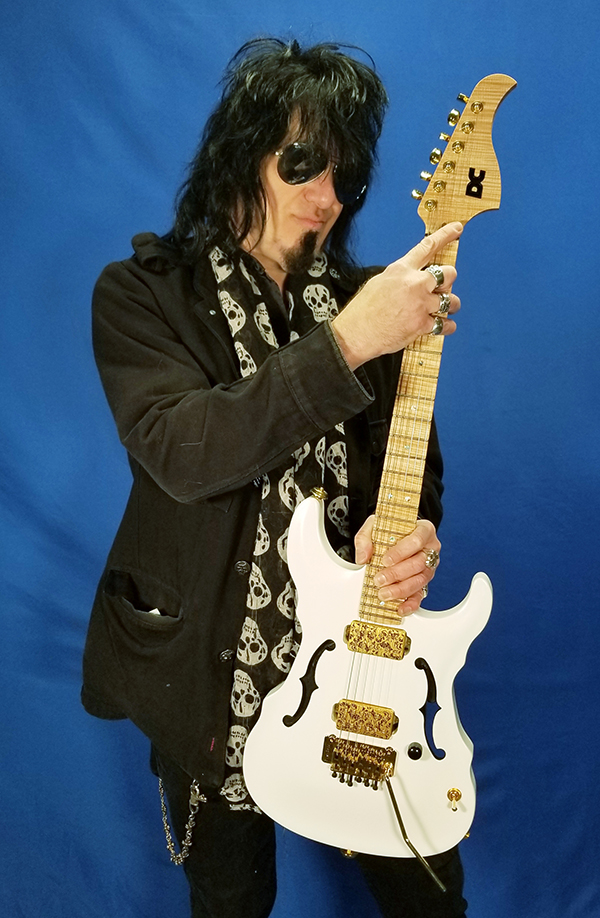 Anything I need - I have DC Custom Guitars USA perform all my mods, upgrades, and scallops
- Joe Stump / Alcatrazz, Berklee School of Music Metal Professor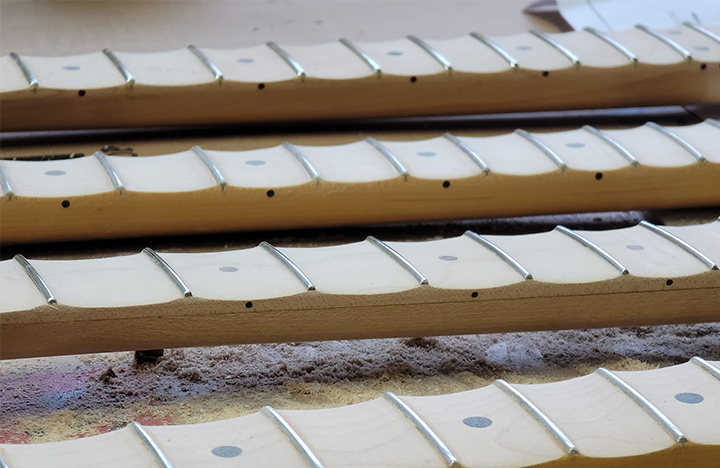 CHOOSE YOUR FRETBOARD SCALLOPING SERVICE OPTION
After submitting payment for scalloping services, The next step will be to package your guitar neck in a sturdy, safe box and send it to the following address: Dean Cascione c/o DC Custom Guitars. 608 Henshaw St. Rochdale, MA 01542 USA - Once recieved, a confirmation email will be sent out and we will then begin working on your project!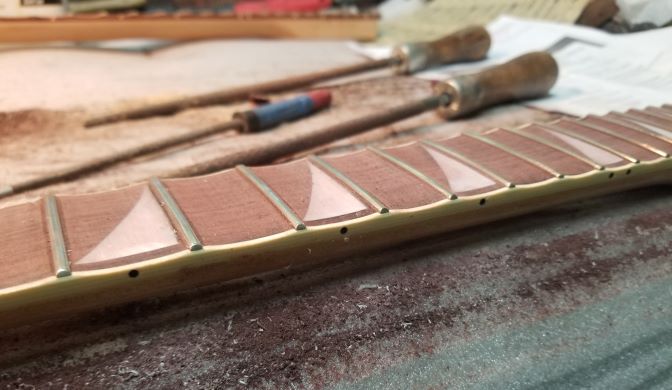 YJM Style Fretboard Scallop in Progress


We Accept PayPal,
Bank Checks, Personal Checks
and Money Orders!

Checks / Money Orders can be made out to:
Dean Cascione or DC Custom Guitars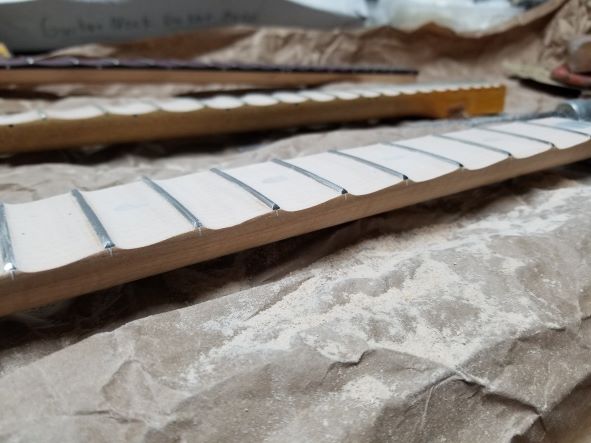 Blackmore Progressive Style Fretboard Scallop in Progress
Yes we can scallop shark fin inlay necks and bound necks too!!
We can scallop BC Rich Fretboards too!!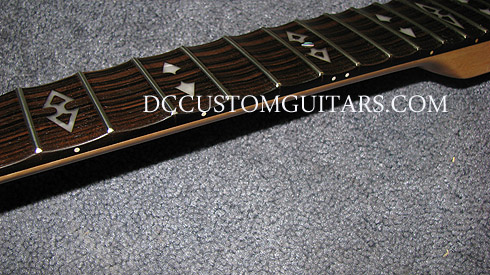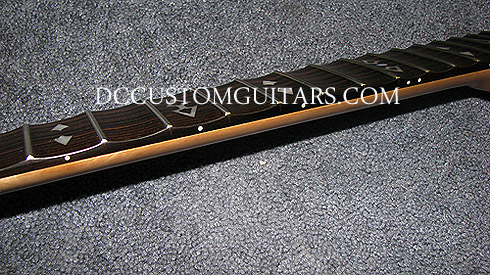 How about scalloping your Ibanez Prestige neck ? Mod it to Shred!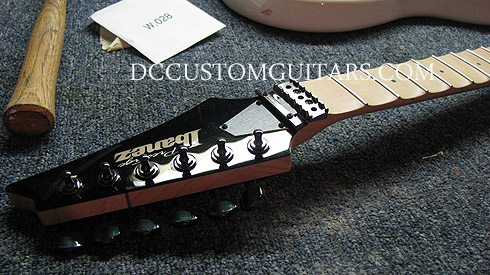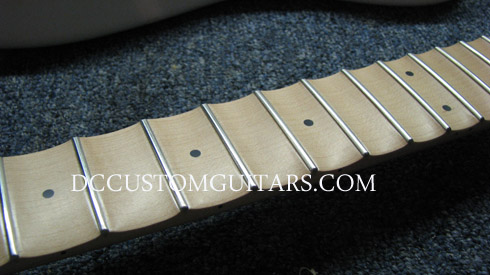 Or scallop an Ibanez fretboard wth cool inlays - we can do it!!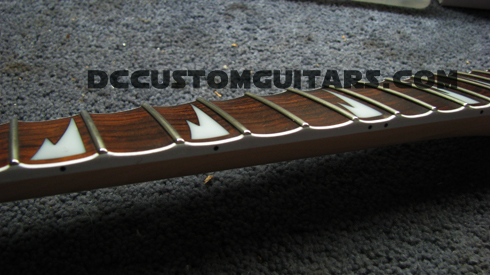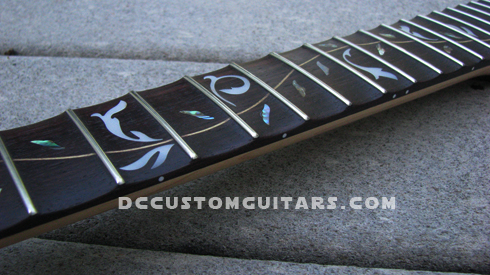 JEM FP/ 777 / 555 Vine Inlays are not a problem! Unlock the secrets
of the scalloped fretboard today!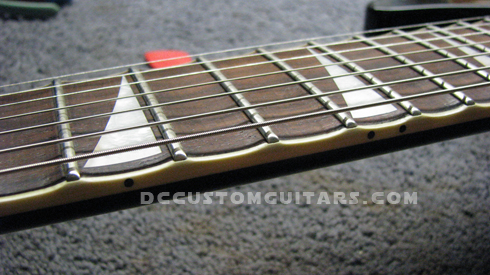 7- String Jackson guitar scalloped fretboards simply SHRED!!!!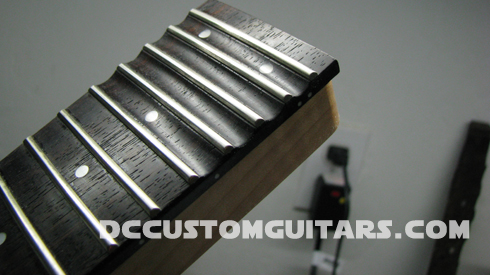 How about we can just scallop the last 4 frets to give you that extra bite while soloing!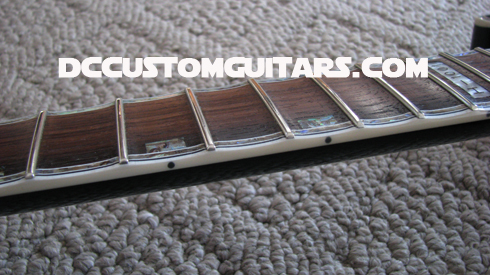 We can even scallop necks with abalone inlays,
binding and more!!! Check out this
LTD/ ESP neck thru guitar that was sent in for our
scalloping service!!
What is Neck scalloping?

Neck scalloping is the removal of fret board wood or material between each fret. The two popular types of procedures to scallop a fret board are "barrel- straight through automated machined" and "hand scallops (which follow the neck radius)" DC Custom Guitars offers hand scalloping because we feel not only is a radius hand scalloped neck more natural & comfortable to play, but in fact it leaves more wood intact which equals a stronger, straighter neck. When the procedure is complete, the fret board will look identical to many popular scalloped shredder custom shop necks found on high end guitars.

Why Scallop?
There are many reasons why some musicians prefer scalloped fret boards over conventional fret boards. The most important reason and most noticeable advantage is more control of the notes fretted. More control of each note fretted equals better tone and a cleaner sound.. no matter how fast you are playing. This also means more control when bending and using the vibrato/pull on/off techniques. The extra control is due to the fact that your fingers wrap themselves around the string, instead of being bottomed out on a conventional flat fret board. More surface area of your finger has a grip on the string which gives you the advantage of gaining complete control of each note! Unleash the secrets of the scalloped fretboard!




Scallop Depth and Shape


Side dot installation depth plays an important role in the actual Scallop Depth. Necks can typically be scalloped to a depth of 1-2mm w/o affecting side dots. Blackmore Style progressive style scallops, Malmsteen full style scallops, 12th fret up scallops , 9th fret up scallops & 21-24th fret scallops are our most popular scallop types. We also would love to work with you to create your very own scallop shape!

Full Scallop vs Progressive Scallop


The Blackmore style scallop is a progressive fretboard scallop in which the shape looks similar to a " Nike Swoosh" symbol from the side of the fretboard. The YJM style scallop looks similar to a "Full Pipe" BMX or Skateboard ramp that extends from fret to fret. The Blackmore style leaves more wood intact for people who fret chords with heavy hands aiding the guitarist from going out of tune. With the YJM style scallop, all the wood is removed and your fingers have maximum bite around each string across the entire fretboard register. The Blackmore style scallop has little to no scalloping under the bass strings (EAD) and it progressively gets deeper under the (GBE) strings, and after the 12th fret countours into a full scallop

.



Examples of

Fret board Wood Types


All Fret-board wood types accepted for scalloping services to include: Indian & Brazilian Rosewood, Quartersawn, Hardrock, Flame, and Birdseye Maple, Cocobolo, Kingwood, Zebrawood, Pau Ferro, Ebony, Etc...

Will You Re-Finish The Fretboard After it Has Been Scalloped?
Yes, we use Nitro Cellulous Lacquer & Sealer on Maple Fret boards, and Tongue Oil on Fret boards that are normally oiled (rosewood, etc.) we can also leave the fretboards bare if so desired...

Turn-Around Time
Typically 2-3 weeks for Rosewood family woods, 3-4 weeks for maple and ebony woods from the time the neck is received at the shop. Set neck guitars/ neck through guitars require additional time to complete the scalloping service.

Where do I send my neck?

Dean Cascione
DC Custom Guitars USA
608 Henshaw St
Rochdale, MA
01542

As soon as your neck is received by US - We will send you a confirmation email. It takes approx 2-3 weeks (sometimes more pending on shop workload) to complete a scallop job from the time we receive your neck. Don't worry - We also keep all our clients informed of the project progress (via email)! Be sure we will send cool pics and chat with you about the progress!


Why am I being charged shipping?
We ship FEDEX, USPS, and UPS ( Least expensive for you to keep costs down- ground shipping / no insurance). When you order the scalloping service a fee of $30 per neck and $75 per guitar is added to ship back your package(s). The shipping charge is to cover the cost of shipping the finished modded guitar or neck back to the customer. If you would like to add a faster shipping service, shipping insurance for partial or exact amount, or use your own shipping account, send us a label and we will be happy to work with you to choose the best, safest, fastest method !

Are their risks?


Yes there are always risks when modifying a stock guitar neck and shipping to and from our business. Manufacturers can vary their tolerances from time to time with fretboard thickness, inlay depth and inlay glue/ installation materials which may impact the scalloping process.


Shipping services can be delayed due to circumstances beyond our control. Packages may get lost however DC Custom Guitars is not responsible for purchasing, refunding, building, or replacing, a lost or damaged instrument. Extra shipping insurance must be purchased by the client and shipping must be upgraded to cover the risk prior to the instrument or instrument parts leaving our shop . If an issue arises, we will work with all shipping carriers to help find your package and make sure it arrives to your place safe!
I Have More Questions That Are Not Covered here - Help!

No Problem! We will answer all your questions - Just email us at: info@dccustomguitars.com


Let DC Custom Guitars Scallop your Neck today!